N ° 1 of pool automation !

Klereo is a world leader in home automation systems.
Klereo's directors, Jean Mars BOUTET and Omar SAAID have almost 30 years' management and development experience between them in the field of car electronics, so they are entirely familiar with low-power wireless technologies operating in harsh environments.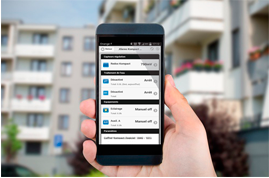 The systems Klereo offers are the fruit of many years of research and development, collaborating closely with experts in swimming pool design. Having developed a full range of innovative swimming pool electronic security systems in 2003, five years later, in 2008, Klereo's electronics, IT and chemical engineers developed and finalised the Klereo regulation and control system for all swimming pool equipment.
Combining vehicle and building technologies, Klereo produces reliable products to meet the everyday expectations of swimming pool professionals and users. We guarantee the quality of our products with individual factory testing of the circuit boards, probes and sensors, etc.
Klereo is now the leading manufacturer of intelligent systems for swimming pool maintenance and controlling all pool functions, such swimming pool filtering, water treatment, heating, lighting, pool robots, pool cleaning and other auxiliary functions.
For trouble-free enjoyment of your swimming pool!
BioClimatic Pool by Klereo™
Klereo invents the Bioclimatic Pool concept, which consists of taking into account all the bioclimatic factors that affect the state of the water in the pond, in order to regulate them as accurately as possible, with the best dosage to permanently maintain water quality.
The swimming pool is a natural environment, subject to biological and climatic changes: sun and UV, air and water temperatures, varieties of treatments used ... To recover its balance, the pool water must undergo a taking into account all the parameters. But not any correction! It must be measured and perfectly dosed, to strike towards the perfect balance.
It is this balance that guarantees the health of the bathers via an optimum water quality.
This equilibrium also helps to preserve the planet, using less water and less maintenance products. The regulation of the filtration and the functions of the swimming pool adapted to the actual needs also makes it possible to save energy.

Satisfied customers with Klereo solutions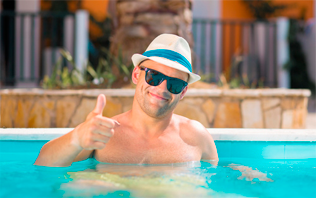 M. Godignon (34) :
" Je suis très satisfait du système Klereo installé par mon professionnel. Il me permet l'automatisation du fonctionnement de ma piscine couplée à une surveillance et à une activation à distance. Avec Klereo, je conjugue confort d'utilisation, qualité de l'eau et économies."
Mr Blime (61) :
"J'ai installé le système Klereo Care avec un traitement au sel depuis 2 ans sur ma piscine et j'en suis satisfait. L'entretien de ma piscine est simple à réaliser. De plus, le SAV Klereo est très réactif et a toujours répondu à mes questions."
James Frade (78) :
"J'ai fait installer un système Klereo (traitement chlore) en mai 2010. Depuis que le système est installé, je n'ai jamais eu une eau aussi claire et saine, et je ne m'occupe plus de rien à part pour remplir le bidon de chlore. Je l'ai d'ailleurs conseillé à des amis. Quelques temps après avoir installé Klereo, ma consommation en chlore a diminué. L'eau de ma piscine est justement dosée et je ne ressens plus le chlore. Ce que j'apprécie le plus est la gestion via internet et la fiabilité du produit."
Michel M. (74) :
"Depuis que j'ai installé un système Klereo, je n'ai plus aucun souci avec l'eau de la piscine. Elle est toujours parfaitement claire avec un minimum de travail : des contre-lavages de temps à autre et la mise en place du robot électrique pour nettoyer le fond. Je ne m'occupe plus du temps de filtration et des dosages des produits, j'ai juste à changer les bidons correspondants quand le système me signale qu'ils sont vides.
J'avais au départ un électrolyseur au sel et je suis passé avec Klereo au Chlore liquide : nous continuons à ouvrir les yeux sous l'eau et il n'y a aucune odeur de Chlore, à l'identique du traitement au sel. Par contre je consomme moins de pH (-) et je n'ai pas à changer les plaques en titane tous les 5 ou 6 ans.
Enfin, je peux piloter mon bassin à distance grâce à la connexion Internet et je trouve cela extrêmement pratique quand on est souvent en déplacement.
Un investissement dont je ne pourrais plus me passer et pour lequel on se demande pourquoi ne pas l'avoir fait plus tôt ! "