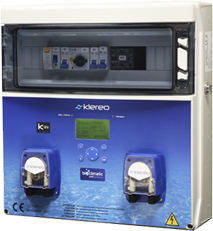 The basic Kompact + Kit:
1 electronic central unit
1 electrical box
Lighting transformer
2 chemical metering pumps 1.5l/h
1 water temperature sensor
1 PH sensor
1 flow switch
Kompact+ combines all the essential features of the swimming pool. An electrical box and lighting transformer are included in the Klereo central unit. Klereo KOMPACT+ has 2 lines of products allowing you to automate different functions such as filtration, pH, chemicals, lighting, heating, blower, etc.

The advantages of Klereo Kompact +
Automatic water treatment (pH regulation and disinfectant) to ensure optimum water quality
Complete filtration regulation to ensure optimum water quality
Electrical box compatible with single-phase and three-phase electrical installations
An integrated lighting transformer
Complete pool automation of the main features for your pool: heaters, lights, cleaning, pumps, filtration systems, chemical feeders, jets…user friendly (controls up to 9 features with M9 range)
Energy savings and monitoring
For a Connected pool: using your smart phone, tablet or web-connected device and manage all the elements of your pool heating lightning and all other features of your pool.
Protection of the filtration pump and the pool cover
Swimming pool antifreeze protection *(optional)
100% compatible with any pool and pool service room
Klereo products are compatible with any pool water treatment such as chlorine, salt electrolysis, bromine or active oxygen
Reliable and secure K-link communication protocol user friendly and easy to install.
Klereo system is compatible with the automatic valves which clean the sand filter.
Klereo pilots UV and ozone disinfection systems.
Pool disinfection chemical of your choice
Liquid chlorine: The regulation of liquid chlorine is accurately done thanks to its redox probe.
Salt electrolysis: Klereo hybrid salt chlorinator is a patented system combining salt chlorination and automatic liquid chlorine injection (in case of low performance of the salt chlorination).
You can use one or the other water treatment (chlorination or injection of liquid chlorin) to increase life time of the chlorinator cell
or to ensure operation at any seasons.
Bromine: Bromine level is proportionally controlled with a Redox sensor. The bromine control kit contains a solenoid valve, a 24 V transformer and a redox probe.
Active oxygen: Active oxygen regulation is included in the Basic Kit. It is carried out proportionally according to the volume of the pool and the water temperature.
Kompact+: principles of Operation
Klereo options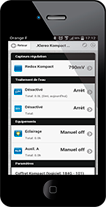 Klereo Connect
Easily access Klereo cloud using your smart phone, tablet or web-connected device and manage all the features of your pool with a simple and Intuitive graphical user Interface.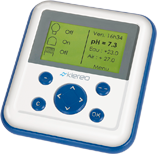 Klereo Pad
Your pool service room is hardly accessible?
Klereo Pad remotely display the control panel allowing you to pilot your pool from your living room (100-meter range in open field).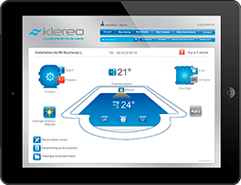 Klereo Pad 2
Comes with Klereo Connect Kit and a pre-configured tablet to connect to the Klereo Cloud.
Pilot all the features of your pool with an Intuitive graphical user Interface via WIFI connection.
Complementary options for everyday convenience!

Freeze protection
You want to winterize your pool located in an area exposed to negative temperatures during the winter, Klereo freeze protection activates the filtration system when the temperature is below a certain threshold preventing the water from freezing and expensive freeze damage repair of your installation.

Empty chemical feeders detection
his option lets you know when to change the chemical container (pH, chlorine or active oxygen).
In fact, the empty chemical sensor transmits the information to Klereo control unit, to Klereo pad and to the Internet interface.